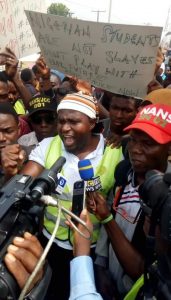 The leadership of the National Association of Nigeria Students (NANS) has denied ever recommending any names or persons to the Imo State Governor for appointment as a Special Assistant or any other political office even when they are willing to assist the present administration to reach its full potentials in good governance.
In a release issued on Wednesday, February 26, 2020, at Owerri, signed by the Director of Action and Mobilization Zone B of the Association, Comrade Dulison Osinachi and representative of the student body in Owerri, NANS denied the a recent online message with the caption, "NANS endorses Ogbonna Collins (Rochas) for SA to Governor Hope Uzodinma".
The students group said it was necessary to make this public denial to dissociate itself and disabuse the minds of the general public from the notion or insinuation that it recommended or endorsed one of their leaders, One Ogbonna Collins (aka Rochas) to the Governor, Senator Hope Uzodinma for political appointment.
The statement further reads, "it is pertinent to state that there was never a time NANS made such endorsement as claimed by one Ogbonna Collins". He has never consulted the organization under my watch in the state for any such recommendation and "NANS is not known for such desperation".
It went on to declare that Nigeria Students in Imo are bewildered as to why those who claim to be student leaders would engage in acts aimed at making mockery of National Association of Nigeria Students (NANS), the apex students leadership of Nigeria. The association appealed to the public to disregard the information and claim of the author of the information.