An Old Student of St Augustine's Grammer School, (SAGS) Nkwerre, Attorney Nze Daniel Chigbu Jason, a United States of America based lawyer who hails from Umunyem Village, Nkwerre of Imo State has invested the whopping sum of thirty six million naira (N36m) in renovating and  remodeling a dormitory and other facilities  in his alma mater. And the dormitory is now named after him, "Nze Daniel Chigbu Nkwerre House".

Attorney Daniel Chigbu Jason with the support of his wife who is a Judge in the United States of American also provided solar-powered water supply that will enhance the use of the modern conveniences and facilities he provided in the school for the use of students.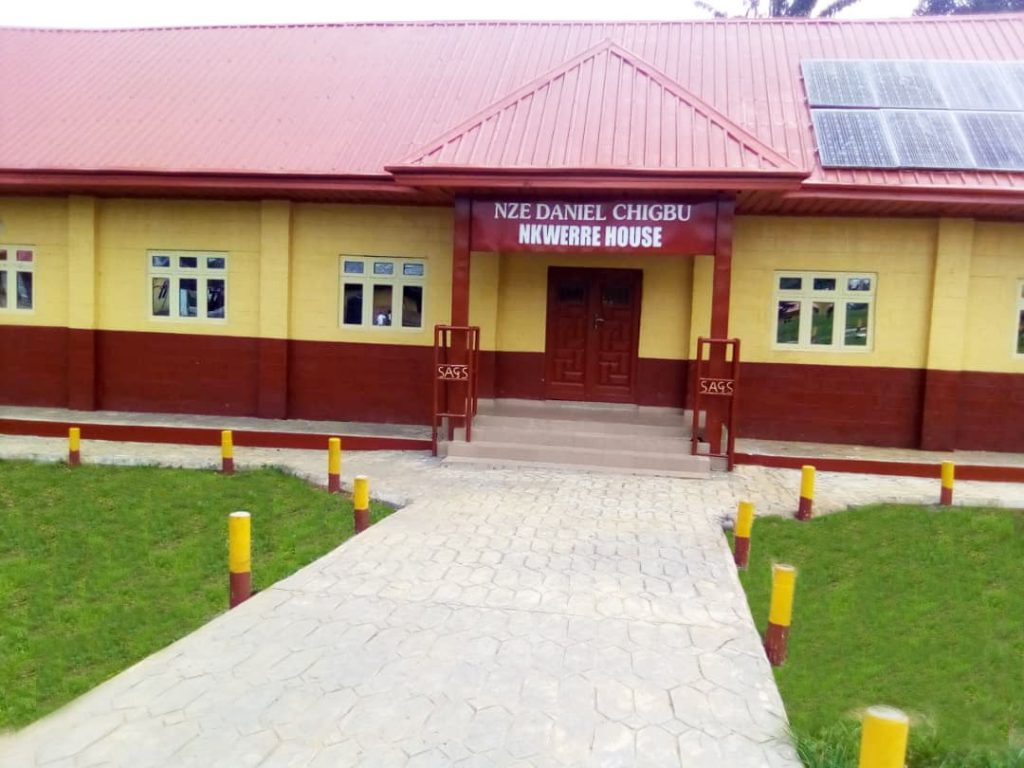 It was gathered that most of the buildings in the school which had been without water supply since its inception in 1948 were dilapidated and in very deplorable condition, hence some of them were not in use. But in his determination to provide water and ameliorate the plight of the students, Attorney Chigbu commissioned a company to conduct a geophysical study of the school and submit a report. "Based on the report of the company, Nze Daniel Chigbu embarked on the herculean task of installing a comprehensive solar powered water supply with all necessary equipment, hence about 14 showers and 8 toilets in the dormitory are constantly flushed with ease after use.
 "This has enhanced the sanitary condition of the school and the health of the students."

According to a teacher in the school who pleaded anonymity,  the construction of the dormitory and provision of other facilities including solar powered water supply lasted for a period of 9 months from inception to commissioning.

He said that some of the facilities provided in the school by Attorney Chigbu include 3 over head water tanks, well planned grass terrace with accompanying landscaping , well ventilated and 24 hour solar powered dormitory with accommodation for 80 students or more, 8 toilets and 14 showers divided between the duplex bathroom/toilet bathrooms on each side of the dormitory, etc. Attorney Chigbu Jason also completely furnished the dormitory with bunkbeds, mattresses, pillows and even bedsheets and pillowcases for each bed. 

When contacted, some old boys of the school who spoke to this reporter, including the former two term member for Nkwerre state constituency in the Imo state house of assembly, Hon Ugochukwu Nzekwe, commended Nze Chigbu's magnanimity which according to him shows that he has the interest of the school, the students and the community at heart.
"It also shows that he places much premium on the education of our children and youths. We need more people like him to compliment the effort of government."
Similarly, the current lawmaker for Nkwerre state constituency, in the Imo state legislature, Hon Obinna Okwara said he, his constituents and the Orlu Anglican diocese are happy and grateful to  Attorney Chigbu Jason for singlehandedly performing such feat which according to him should be emulated by other well to do Imolites, especially old boys of the school pointing out that the Attorney has really given back to the school where he was nurtured and to the community where he belongs. He prayed for God's continued blessings on him and his family.
When contacted on phone, Attorney Nze Daniel Chigbu Jason, an entrepreneur, philanthropist and Real Estate mogul said, he was inspired to renovate the dormitory when he visited the school sometime in 2019 alongside his brother and noticed that most of the buildings in the school that used to be a reference point in their days were utterly dilapidated.
"The licensed United States Attorney, former United States Army Major and Judge Advocate, Founder and owner of the Law firm of Jason and Bradley, LLC, Georgia; President and CEO of DCJ Properties and Holdings, LLC; and Former President and CEO of  Perazzl Apparel Company, LLC a U.S. headquartered Jeans company,  further said  "I almost wept that my alma mater is in such a deplorable condition and nobody cared.

" The politicians and the government abandoned it because it had been taken over by the church. My stay at Nkwerre House was memorable and seeing it in such terrible condition was agonizing. There and then, I decided to do something, at least to give back to the school and the society since I have been blessed enough.
"I didn't just want to remove and replace the zinc in the name of renovation. I wanted a dormitory that I could actually sleep in and be comfortable, a holistic approach. Before I started the project, I had consulted my elder brother, Chief Gibson Chigbu who is a seasoned Architect and builder.He guided me and put in his professional services to ensure that the project was a reality. I knew that he was the only one who could understand the quality of work and degree of attention that I needed.  

"First of all, SAGS did not have water, so we had to get water on the school no matter what it took or cost.  Then the school was spending fifteen thousand naira (N15,000) weekly  to get a tanker to supply water for the use of staff and students.
 " We commissioned a company to conduct a geophysical study after which we were told that we couldn't sink a borehole. That was why the school did not have water since 1948. Because we were determined to ensure steady water supply, we decided to seek alternative but more expensive alternative. Hence there is water in the school today. To avoid the issue of unavailability of diesel etc, we installed solar panels to power the water, etc.
Chigbu in expressing how fulfilling he feels completing the project, he said,"to renovate, modernize this dormitory, furnish it and provide 24 hour solar power to it, bring water to SAGS, install water tanks and provide solar powered pumps have been by far, the most gratifying and fulfilling things I have done in my life.

" Giving back is satisfying. And then to be honored with the dormitory renamed after me, NZE DANIEL CHIGBU NKWERRE HOUSE" is even more gratifying", he concluded.