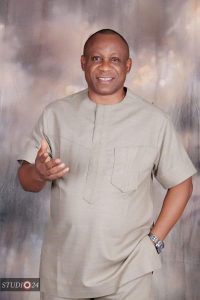 [contact-form-7 404 "Not Found"] [contact-form-7 404 "Not Found"] [contact-form-7 404 "Not Found"]
A former Imo State Publicity Secretary of People Democratic party,Chief Blyden Amajirionwu who is now an APC stalwart has advised Rt.Hon Emeka Ihedioha to put Imo first by conceding to defeat.
In a letter which copy was made available to Watchdog Newspaper,yesterday,with caption,"An open letter to Emeka Ihedioha,Amajirionwu described Ihedioha as highly vindictive,saying that it is the reason most of his party members and confidants deserted him shortly after his loss at Supreme court.
The release reads in part,"My brother,  friend and leader, Rt Hon Emeka Ihedioha (CON), I bring you greetings and brotherly love. Be reminded that we are all Christians who believe and depend on God. In this regard, we put our trust and faith in Him. In every condition we find ourselves, we return all glory and adoration to Him.
I must commend you for giving in your best to attain the feat you find yourself today, ranging from your political sojourn to the national assembly as well as your position in the recent governorship contest which you were according to the Apex court " declared as governor in error".
Within this era of your stay in office as governor, some of the policies you initiated were commendable and people oriented particularly the Treasury Single Account, TSA policy as well as the biometric capture of pensioners which lasted for four months with 100% of the pensioners dejected for non payment of pension arrears accrued during the exercise.
You provided opportunity for your favourite party loyalists who served in your administration through various appointments.
I appreciate the appointments particularly Ngor Okpala indigenes you appointed to prime positions in your administration.
Also, during your era as governor no doubt, you engaged reputable construction companies to rehabilitate and construct our roads.
My dear brother, in spite of all the attributes stated above, you ran a high vindictive government and this can be attested to by the mass exodus of your followers shortly after the Supreme Court pronouncement of your exit.
In the state house of Assembly alone, led by your favourites, your kinsman, Hon Eddy Obinna and Hon Uche Ogbuagu, more than 95% of PDP lawmakers in the Imo state House of Assembly have decamped to the ruling APC. I pray that the rot or mess left behind in the Imo State Universal Basic Education ( IMSUBEB) award of contracts will not hunt you in the near future. A situation where contracts were brazenly inflated.
Am fully aware of the pains you are going through as regards the Supreme Court judgement that ousted you from office. It is absolutely the same pains you made me pass through in my different bids to represent our federal constituency, in 2015 and 2019.
You are aware of the huge finances I lost in those bids but still, I had to bear all for the sake of our people.
In the same vain, I advice you to bear and accept the Judgement of the Supreme Court that enthroned Sen Hope Uzodinma as the duly elected governor of Imo state having in mind that the unity and peace of Imo should come first before personal interest.
I equally advice the Peoples Democratic Party, PDP to as well concede the defeat and move on.
With due respect my brother, I disagree entirely with your petition seeking for review of the judgement of the Supreme Court.
 I fault the steps you took so far by intimidating, harassing, blackmailing and incitement against the judiciary.
 You can very well recall that you have largely benefitted from the judiciary.
Your twelve years sojourn in the National Assembly was not without litigations. A typical example was the suit instituted by Barr Augustine Oguguo from Ngor Okpala LGA that ended up at the Supreme court in your favor.
 You altered the zoning arrangement between Ngor Okpala and Aboh Mbaise against the wish of the people to pursue your desperate political agenda. Heavens did not fall. We held our peace.
While all the litigations filed against you at the National Assembly were delivered in your favor, you cannot continue to win all the time.
Those whom you defeated at the Supreme court conceded defeat, the likes of Sen Ifeanyi Ararume and Sen Samdaddy Anyanwu who challenged your declaration as governorship candidate of PDP both in 2015 and 2019 up to the apex court had already moved on.
I hereby advice you to adopt a subtle approach to remedy your relationship with the judiciary.  In the same regard, I advice you direct the National leadership of the Peoples Democratic Party, PDP to stop further petitions to any other constituted organ within and outside the country.
Call your supporters both in Imo state and beyond to desist from any form of provocative media attack / publications  against constituted institutions that might result to unrest in the state as the protests appear to be confronting constituted authorities.
Your petition seeking for review should forthwith be withdrawn more importantly now that the third respondent in the case, INEC had backed off from any form of Judgement review as it concerns Imo.
At this point also, I advice even on withdrawal, that you render unreserved apology to the Supreme Court panel headed y CJN, Tanko Mohammad.
Thank God an adjournment was granted as requested by your lead counsel, Kanu Agabi, SAN. I believe this is an opportunity for you to withdraw the suit / petition and mend relationships.
You are one of the luckiest Nigerian politicians. You are not known to any business or any other source of income from history. All you have been able to massively achieve in life is attributed to income from politics.
 You will agree with me that through this process of politicking, you have amassed wealth and other properties located in choice areas both in Abuja, Lagos, Port Harcourt and even abroad that can take you through out your life span.
 You're  indeed, among the luckiest and very successful politicians in Nigeria.One can attest.
I advice you to allow God's will to continue to prevail in your life instead of resorting to your own strength as an individual.
Luckily for you, age is on your side should in case wish to offer yourself for service to the State or Nation at large.  Don't allow heaven fall because you are not a governor today. I once again, urge you to surrender totally to God your creator.
Finally, I insist you put a call across to H/ E Sen Hope Uzodinma, Executive Governor of Imo state congratulating him on his emergence and affirmation by the Supreme Court as duly elected governor of Imo State.  By so doing, you must have redeemed the bad impression of your being over ambitious.
You are aware of myself, your person  and Gov Hope Uzodinma having a cordial relationship in the past.
That cordiality can still be revived this moment in the interest of Imo. I am still a ready willing tool to perfect a reconciliation between you and Gov Hope Uzodinma",the release concluded.